When designing a network many factors come into play. Cost normally is the largest but others include bandwidth needs, run length, form factor, and more. Given the networks designs needs often some decisions are made without much choice as they logically are what is best for the overall design. However sometimes you get subtle choices that can make big differences. A perfect example involves Cat6 cables. When Cat6 is ideal for your performance and cost needs, you can still choose between cables of different diameters. In particular, slim Ethernet cables provide interesting benefits that can translate to major performance changes for your network. in this blog post we will talk about why to choose slim cat 6 cables for your network design.
As the image above shows slim cat6 cables are much smaller in size then regular cat6 but what exactly is the difference between the two? By numerical distinctions we can state that the difference in diameter between the two is around 0.19mm. With the regular having a 24 AWG wire with a conductor of 0.51mm while the slim has 28 AWG wire with a  conductor diameter of 0.32mm.
Extend that to the fully sheathed wire, and you see that Cat6 cables have a standard diameter of 6.5mm while slim cables get down to 4mm diameters. That is more than a 50-percent reduction in size, and when leveraged correctly, the size difference can lead to meaningful benefits.
Benefits of Slim Ethernet Cables
Although slim cables are smaller in size one of their largest benefits is that they operate on many of the same specifications are regular cables. Data Speeds and form factor is the same. However the smaller diameter does lead to higher resistance which ultimately limits the PoE capacity.
So what are the real benefits?
Space management
Provide better airflow leading to better cooling
Allowance of better cable management due to size
Thinner cables allow more flexibility
How to Choose Cat6 Ethernet Cable?
Choosing a cable is dependent on the network environment your in. For instance if the environment is 1/10GBase-T Ethernet then both slim and regular cables are okay to use and would be suitable for data centers and SMB applications.For this application scenario, the FS 28AWG Slim Patch Cables and Cat6 Patch Cables are both good choices.
However, as discussed above slim design increases airflow in tight spaces. If it is used in high-density data centers and SMB, the slim cat6 cables are the ideal choice rather than the regular as they will allow . For this application scenario, the slim cat6 is the best.
FS has done a table to show the difference between the two that is shown below to better help understand the difference.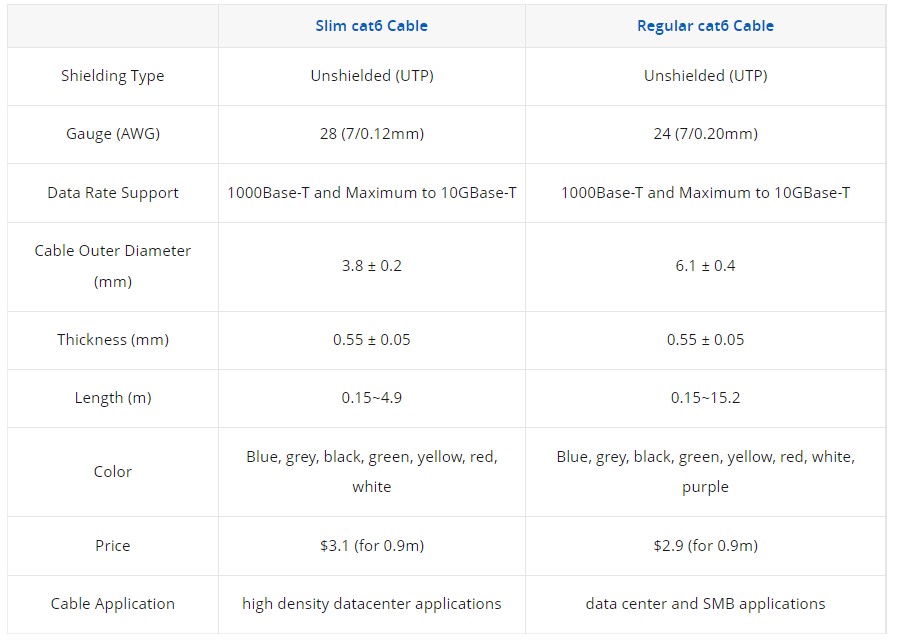 The slim cat6 cable is a great alternative to other traditional cable, for it can save space, improve airflow with easy management. But it can't be ignored that everyone should choose the appropriate network cable according to needs. If you want to explore slim Ethernet cables, or any other cables, we're here to help. With a wide selection and experts ready to answer any questions, you can find the hardware you need to make competitive networks at reasonable costs.