It can be a daunting task moving business no matter the size from a physical to a cloud infrastructure. Businesses need to assess all the pros and cons of the move along with costs, timeframes, and which services to use. We Fix IT can and does help. We have helped multiple small businesses in Darwin NT take the plunge and migrate from a physical infrastructure to the cloud. In this blog we will discus what the advantages of the migration are and how to get the ball rolling on what could be your companies big first steps towards their digital transformation.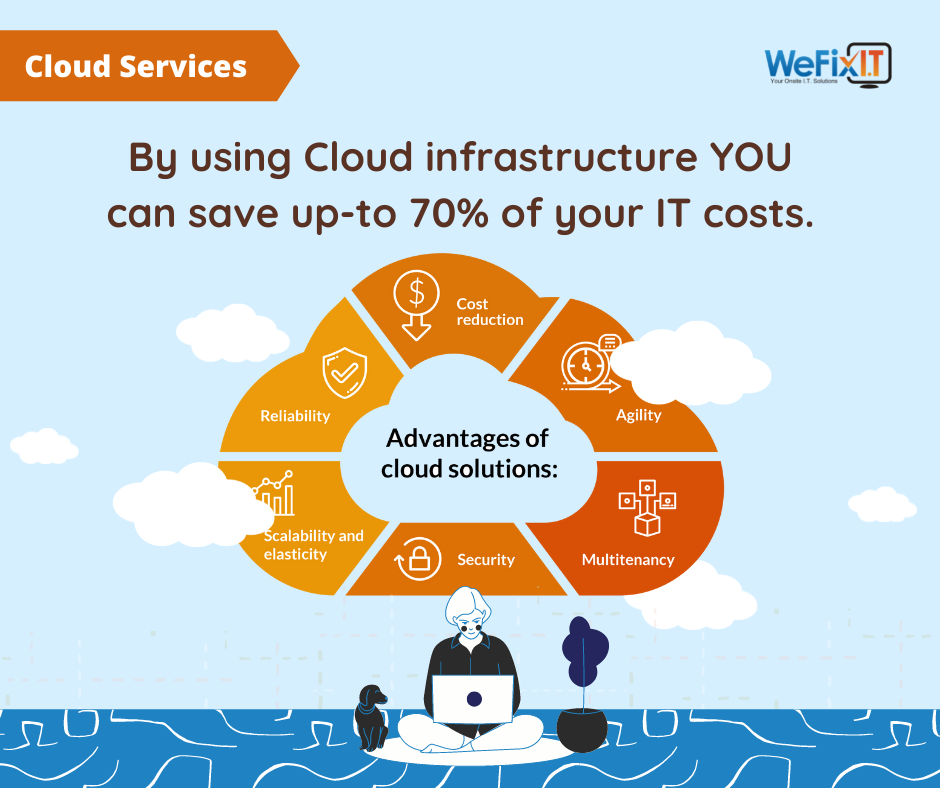 Cloud services are infrastructure, platforms, or software that are hosted by third-party providers and made available to users through the internet. They facilitate the flow of user data from front-end clients  through the internet, to the provider's systems, and back. Users can access cloud services with nothing more than a computer, operating system, and internet connectivity or virtual private network (VPN). 
Cloud services are popular as they reduce the cost and complexity of owning and operating computers and networks. Cloud users are not required to invest in information technology infrastructure, purchase hardware or purchase software licenses, therefore they receive low up-front costs, rapid return on investment, rapid deployment, customization, and flexible use. 
These are cloud-based platforms that use pay as you go models to provide customers with the computing infrastructure they demand. Examples of this type of model include AWS EC2, Google computer engine. 
These cloud platforms provide tools that are needed for application development. Examples include AWS Elastic Beanstalk and Microsoft Azure. 
These cloud services are software available over the internet via vendors for direct purchase and or payment plan purchase. Examples include Dropbox, Mailchimp and Slack.  
These cloud services allow developers to build, run and manage application packages without altering the underlying application infrastructure. Examples include Microsoft sharepoint and Google Suite. 
Advantages of Moving to the Cloud
The Cost
Cloud computing means you can access the latest technology infrastructure and software affordably. It also means you can pick and choose the applications, services and features you need and only pay for them. By doing this cloud infrastructure, software and services take away the traditionally high operating costs of IT. 
With We Fix IT customers can pay on a subscription basis for the services they require.  This means you as a customer can dispense with your maintenance overheads and redeploy your IT team on more valuable digital development activities. OR better yet you can work with us at We Fix IT so that you can have it all done in one place by our trusted team. 
 Scalability
The scale and sophistication of the Microsoft cloud means that maintenance and updates are carried out with no loss of service to users. As We Fix It are Microsoft Partners we can ensure to work with your business to achieve the best cloud results.  Recovery and back-up servers are instantly available and provide extra peace of mind for data security.
Using automated processes, the cloud monitors and continually optimises its server speed and performance. With up-time guaranteed by Microsoft, your team can always work fast and effectively to deliver excellent customer response and experience. Not to mention if something does go wrong. We Fix It is only a phone call away to help resolve the issue.
Security
We Fix IT also work to ensure our services are updated regularly. With every update we ensure to contact our customers to keep everyone in the loop.  Such measures are aimed to reduce the risk of cyberattacks on you as a customer. This means your data and transactions are safeguarded by industry-leading protocols and software. Protection is applied automatically and continually updated to stay ahead of threats
Ease of remote work
With your businesses data stored in the cloud you can rest assured that no matter where you are in the world all you need is a computer and solid internet connection to stay on track. No matter if its on a mobile phone, table, desktop or laptop cloud commutating allows seamless collaboration. 
Cloud Services We Fix IT Offer