Website We Fix IT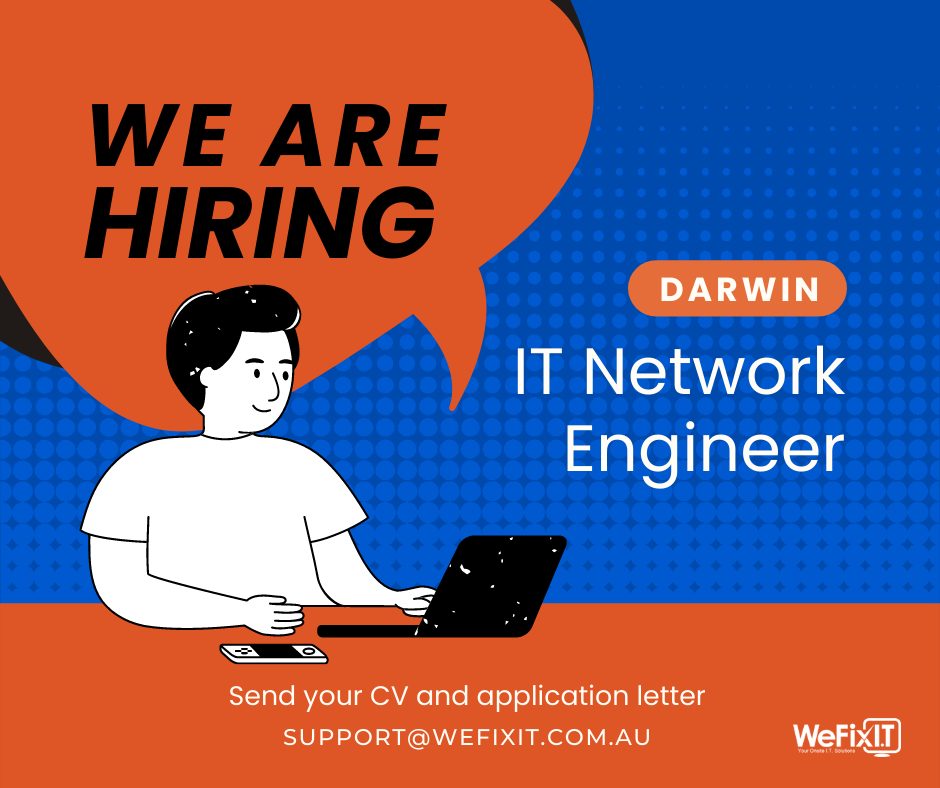 We Fix IT is an IT company in Berrimah, NT providing onsite IT support for businesses and residential sites across the Top End. We also provide a walk-in workshop service for the repair and upgrade of laptops, desktops etc. As a We Fix IT Network Engineer you will be based onsite in our Berrimah office and will work in our technical team.
What you will bring to We Fix IT:
Technical experience in Network and Support functions.
Minimum Experience of three years working as an IT Technician
Server, Network, Desktop and Business IT support
Excellent interpersonal skills
Motivation to improve sales
Ability to build a strong rapport with customers to ensure repeat business
A valid driver's license.
Ability to speak plain English to customers – no I.T. jargon
An interest to complete further learning. The right person will be undertaking a certification to help further their IT qualifications.
What We Fix IT will provide to you:
A generous remuneration package
The opportunity to work with cutting-edge technology
A high-performance culture, placing a strong emphasis on empowerment, trust, respect, learning, collaboration and fun!
We Fix IT is an Equal Employment Opportunity employer. Women and Aboriginal and Torres Strait Islander people who meet the requirements of this position are strongly encouraged to apply.
Our ideal candidate would be working towards their own certifications and we'll happily provide the resources.
Must-have qualifications
Do you have a valid driver's license?
Will you now or in the future require sponsorship for employment visa status?
Preferred qualifications
What is your level of proficiency in English?
Are you comfortable commuting to this job's location?
Are you comfortable working in an onsite setting?
How many years of Information Technology experience do you currently have?
Employment Type
Full-time